Blue Wave / 2018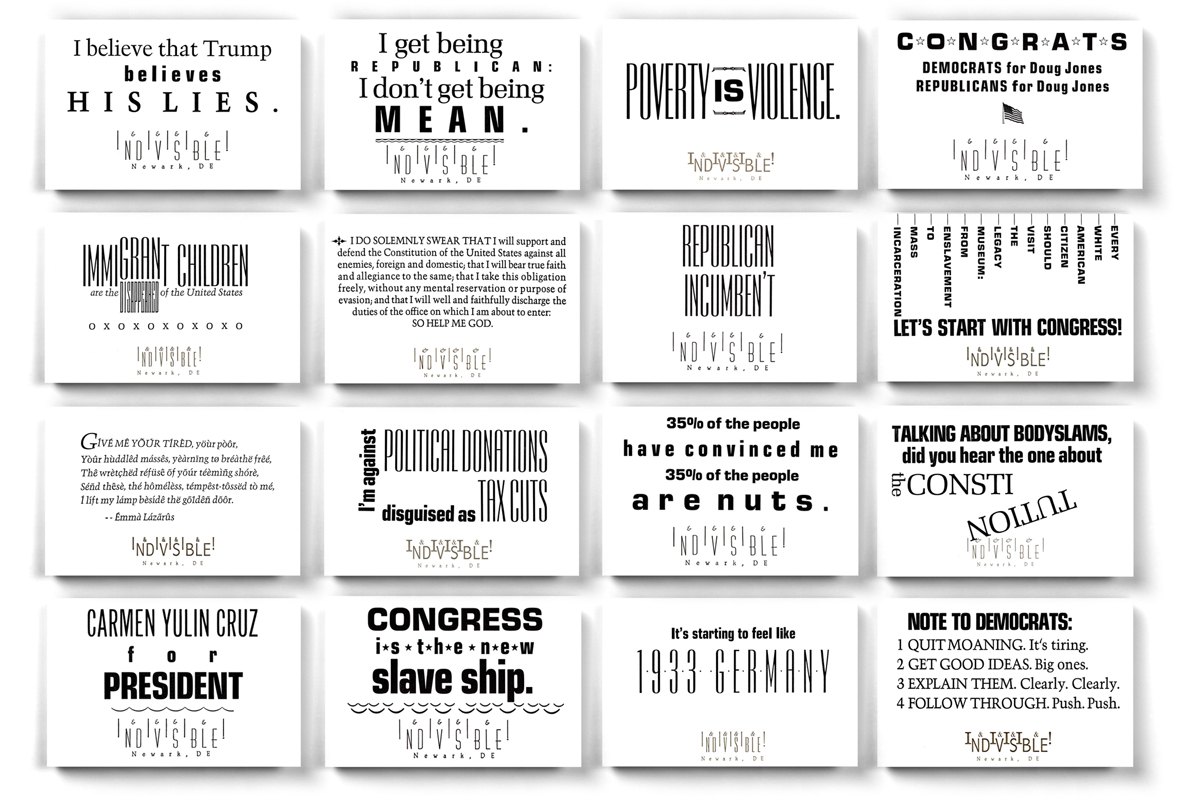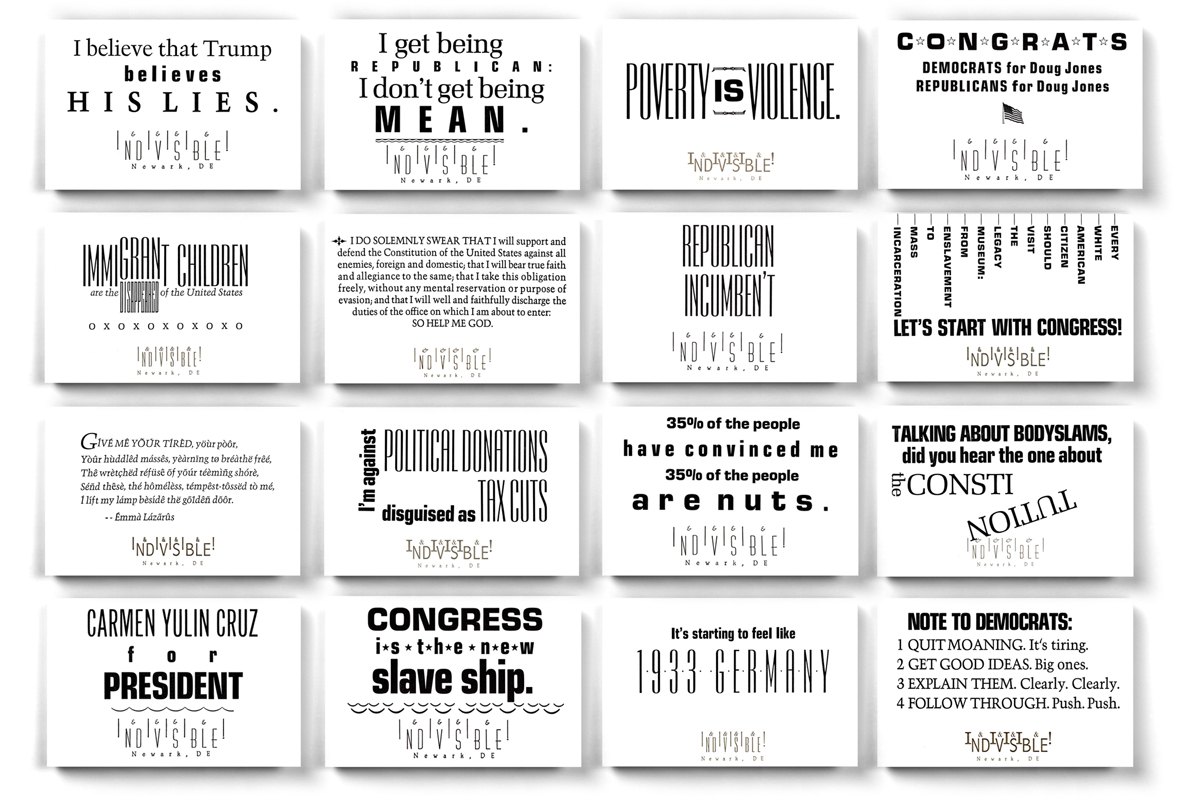 Blue Wave / 2018
Blue Wave broadside
Broadside (includes postcards) / $90
Monthly postcards (through October 2020) / $15
Image #1 : the broadside reaction to the 2018 mid-term election outcome

Image #2 : detail of the broadside showing hand rolling

Image #3 : Ray positioning the Intertype slugs for 1 of the 3 runs for the main image

Image #4 : Jill hand rolling colors on the 1st of 3 runs for the main image

Image #5 : Ray using a loupe to check printing quality

Image #6 : 16 of the 21 postcards we mailed for Indivisible / Newark, DE, every 3 weeks in 2017 - 2018 to all U.S. Senators

Image #7 : an example of one of the 2016-2018 postcards, reacting to the immigration situation, used the quote from the Statue of Liberty, substituting accented characters anywhere we could.

Image #8 : the first of the post-election postcards (450 on our opening mailing list)
Production notes
PRINTING : via letterpress in 2 press runs on acid-free, Somerset Textured White 300 gsm, with deckled edges at top & bottom. Printed on a Vandercook Universal III.

Size : 14.5" (w) x 22.5" (h)

Paper : Somerset Textured White 300 gsm

Media : main image - Intertype hot metal slugs (14 point Vogue Lite / Vogue Bold;) 2018 / handset Empire 72pt; logo / photopolymer plate

Runs : 5 (main image via 3 runs, each with 3 colors; 2018; & logo)

Press : Vandercook Universal III
We are selling the broadsides for $90 with the profits to go for mailing costs for the post-election postcards project explained below.
Pre-election U.S. Senator postcards
For more than a year, as part of our letterpress & creative work, we've been producing a SERIES OF POSTCARDS we've sent to all of the U.S. SENATORS (both Democrat and Republican). So far, we've produced approximately 400 copies of each of 21 cards for "Indivisible / Newark, DE" as the client. We were interested in contributing to the resistance through Indivisible, and the postcards were a good excuse to put ink on paper. We sent approximately 3,830 through USPS and have likely given away another 2,500 to friends, APA members, and workshop attendees, and visitors to our studio.
Post-election postcards
We're tweaking our postcard strategy. We plan to send new postcards every 3 to 4 weeks to all of the Democrats in both the U.S. House and U.S. Senate, select media personalities, other select politicians, friends, and a few Indivisible people (that's about 450 postcards per mailing) through the 2020 elections. Our goal is to support and encourage positive actions or admonish the people's representatives as we deem appropriate.
With a little help from our friends (YOU), we'll be able to pay the postcard postage for this 2-year project. Lead Graffiti is happy to donate the paper and provide the effort involved in setting, printing via letterpress, addressing, and stamping.
Show your BLUE PRIDE. Buy a Blue Wave broadsides for yourself or a present for politically-minded friends. We'll ship them to you for FREE. With your help, the sale of 40 BLUE WAVE broadsides will pretty much cover the upcoming postcard postage for the 2 years. Anyone who buys a BLUE WAVE broadside will automatically be added to the postcard mailing list.
If you are interested in the 2-year postcard project and don't want to shell out the money for the broadside, you can sign-up to be included only on the postcard mailings. Over 2 years you should have a nice set. REMINDER : buying the broadside automatically gets you on the postcard mailing list. Consider buying a postcard set for a friend or 2.