Moments Carved in Paper no. 3 : Switching On : Grading as a textbook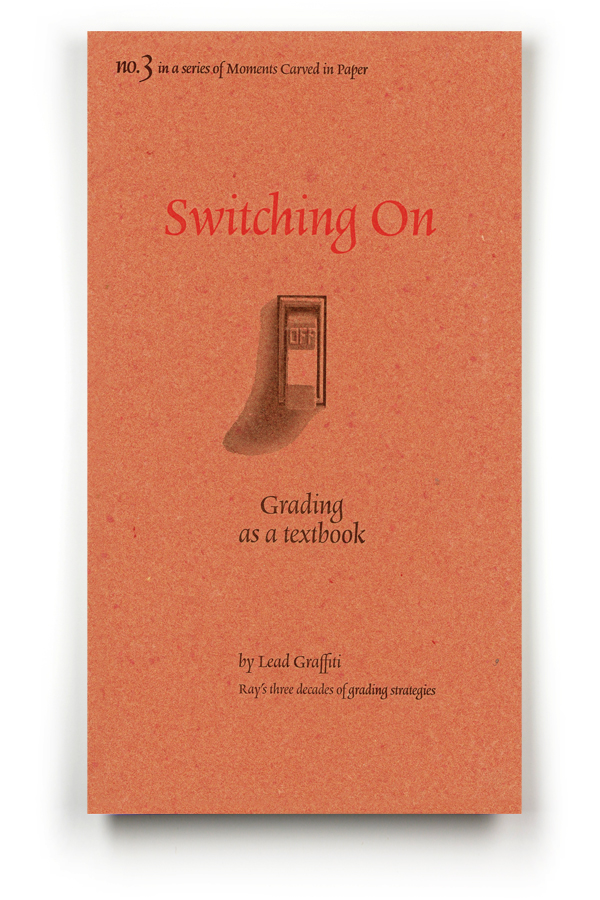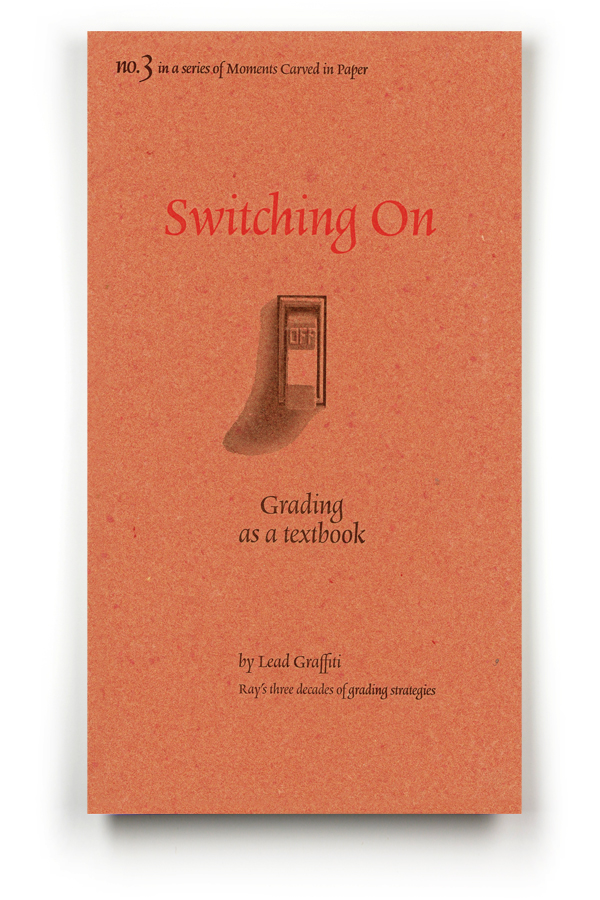 Moments Carved in Paper no. 3 : Switching On : Grading as a textbook
Ray's grading strategies teaching creative thinking
Given this series of autobiographical books, we thought a good one would be to defend the most important honor Ray had garnered in his 3+ decade teaching career along with a sea of students who had far-reaching careers in the fields of advertising / graphic design and photography / film.
In 2008 The Art Directors Club of New York announced an annual award for instructors in the fields of advertising design, graphic design, interactive design, photography, and illustration. Ray was included as one of five included in the inaugural exhibition held in October 2008 at the ADCNY gallery in New York City. The ADCNY describes the ADC Grandmasters as educators whose careers in creative education have impacted and mentored generations of student creatives and whose legacy is a far-reaching network of industry leaders and professionals in Advertising and Design.
The 2nd & 3rd images to the left shows sample pages.
In looking for some kind of demonstrable evidence pointing toward deserving of the award. You can look at student work and the fact that the advertising design students were included in an exhibition each year at The One Club in New York City that highlighted the top 20 programs in the country. Even more notable was that the program was easily the smallest of all of the included along with the fact that it was an all undergraduate program while almost all of the others included graduate programs. You could blame it on good students, good ideas for projects, good lectures, good critiques, good resources, field trips, speakers, etc.
So, what does Ray blame it on.
After considering every possible option, and he things he did a number of things in that list above pretty well, the one thing that rose to the top and was noticeably different from what you see from other faculty was "how he graded."
Three systems were used over the decades of his teaching.
Dots - judging work on or off, interesting or not interesting.

Shelves - work falling into 3 categories - top shelf, oatmeal, and other

Tennis Tournaments - a series of steps where work is judged on various creative components and where advancement stops at any level you do not succeed at.
These grading processes helped students build a structure on which they could make their own thoughtful creative decisions.
Switching On: Grading as a textbook was produced with a flutter binding. The books are printed on Somerset Textured 300 gsm paper with type that sinks into the paper. The text offered the opportunity to play with images, both tipped in or ink-jet printed directly onto the paper, and the chance to experiment with some annotation.
Prices / ordering
Softcover edition is $95 plus shipping.

Deluxe clamshell edition is $355 plus shipping.